Summer is back and with educational institutions on break and many going on vacations and pilgrimages, I am sitting back this summer, reading and blogging this summer after an exhausting first half of 2019.
If you have followed me on social media, you may have learned that I was travelling this past March Break to Europe, stepping foot in Barcelona, Morocco, southern France, Florence, Rome, Vatican City, Pompeii, and Sorrento… all over a span of 12-days. While on pilgrimage, I brought along not Liturgical Press' The Order of Mass in Nine Languages which I reviewed last year, but also a new backpack, High Sierra Overtime Fly-By Laptop Backpack, generously provided for me by 4imprint.com (USA division).
Since the Europe pilgrimage, I have used it on several other occasions, for overnight conferences and local pilgrimages, and it has been nothing but the ideal pilgrimage backpack. With this review, unlike others, I will do a thorough breakdown of the backpack.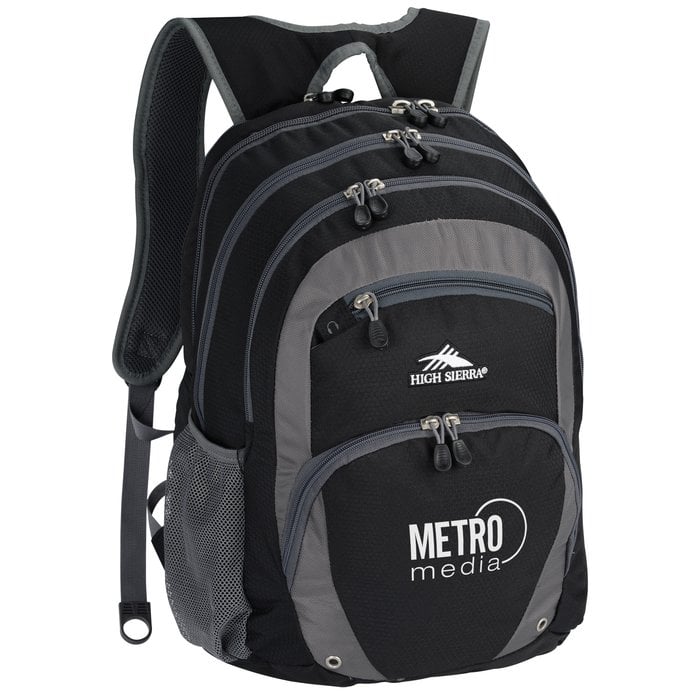 Exterior
I am using the picture from 4imprint.com because the picture I have on hand won't do it justice, and not a high quality photograph. What you see on 4imprint.com is exactly how the backpack looks like on here. I really like the design of the backpack – simple on the outside, but filled with different interior features. The front pocket can be customized either with embroidery or screen printing. This backpack can be purchased by companies to give to their employees as a gift, or perhaps as door prizes in schools… just some ideas I am throwing out there.
I like how the black fabric of the bag is comprised of little hexagons, which, based on the description is, "pieced-together fabric consists of mini-hexagon ripstop nylon". I have never tried it myself, to see if it is truly ripstop, but I do agree that it is " visually-stimulating ", along with the " shiny waffle weave".
Inside: the larger front pocket
Here is the part where I actually have to pull out my camera and show you what's inside the backpack because these parts are not shown in 4Imprint's webpage. I find that it is such a pity that the webpage only has picutres of the tablet "tech-spot", but the backpack has much more to it. The larger front pocket, which the description states as a, "quick-access front zippered pocket opens into a handy organizer, providing a set spot for all those small supplies." That is a feature that I often look for in a backpack, is a spot to store pens and small notebooks, and this backpack exceeded my expectations for that. I like how the pen slots can fit approximately 2 standard pens in each = 4 standard pens in total can fit. However, a single slot can fit a "fatter" pen, such as those 4-in-1 multi-colour pens. The slot to the pens' left I used to store some prayer cards, including one of St. Christopher, patron of travellers. Directly below, I have a passport sized notebook. There, I jot down quick notes and contact info of those whom I meet. However, you can also store your passport in there for quick access. I wish it was RFID protected (but that may be expecting too much). Directly below that is a mesh pocket. I have used this pocket for pins and souvenirs to give to people I meet. However, you can also place your phone and/or earbuds here. Another feature I like is the plastic clip, where I have attached a crucifix as well as a medal of St. Michael. You can also hook up your keys on here. The larger front pouch is great location for quick access items, especially for airport documents. (*Some may be questioning about the circular stitching – shortly after the Europe trip, I purchased a patch of the St. Benedict Medal, as a way to "customize" the backpack.)
The Small Upper Front Pocket
This pocket seems to be meant to store your phone, or music playing device, hence the headphone jack slot. However, I found it personally better as a storage place for eye wear such as prescription eyeglasses or sunglasses. Not only is the size of this pocket convenient, but it's its location on the front that makes it a great place to access your eye ware. I even added a Tiny Saints charm of St. Joseph on the zipper of this pouch!
The "Empty" Compartment
While obviously there was nothing inside the bag when I received it, I am calling the largest storage compartment "empty" because there are no extra features it. While I love small storage pockets within a larger compartment, an "empty" compartment can never be underestimated. Within standard backpacks, this compartment is usually "sandwiched" together between the other feature-filled compartment. It is here that I usually store snacks or meals (if it were a school bag) as well as my toiletry bag. Sometimes, I would store a pair of slippers or shoes here, underneath the essentials.
The "Tech Spot"
I like how High Sierra bags always have a "tech spot". While this area is not large enough to store a laptop (most of the time), I can store my iPad and even slip my phone beside it. Outside of this pouch, I would often store my charging cords and power adapters.
The Magic
This is ultimately what I like about this backpack, and why it makes it the best travel backpack – it is the fact that there is a zipper that connects two halves of the backpack together, and opens like a book. The laptop compartment (which I'll discuss in the next section contains a mesh "window". Why this feature? Well, do you ever get frustrated having to take out your laptop everytime you go through airport, before you board a flight? Well this feature eliminates that, and allow you one less thing to worry about. I just zippppppp… and that's it. All I have left to worry are the items in your pocket (which honestly, I'd just stuff in the quick access area of my backpack) and my belt. If I were not to use the bag to go on flight, but casually on pilgrimages, I would simply use it as another storage space, most of the time for papers or books – things that need to stay flat.
The Laptop Compartment
The last two travels overseas, I have always brought my laptop. The first time I brought my laptop was on a trip to Brisbane, Australia and I brought at Targus messenger laptop bag. While the bag was heavy duty and protected my laptop well with all the padding, I found that it lacked storage space and I tend to overpack. Also, with one strap, it caused strain on one shoulder. With a backpack, the forces would be spread out. With the help of this backpack, my experiences with bringing my laptop to Europe were positive. 
The Side Mesh Pocket
Almost every backpack I have this side pocket to store your water bottle. However, I ran into a problem a couple months ago: I started using a new water bottle (in fact, this one was given to me by my high school some years ago and they used 4Imprint Canada!), but the bottom edge was a little sharp and started wearing down on the mesh and holes began to appear in the mesh pockets. To solve this, I used a foam beer can cooler, and it fit perfectly outside my steel water bottle. Not only does doing so prevent wear of the mesh pocket, but also cools your drink!
The Straps
What is a backpack without two straps? I really like how High Sierra has their shoulder straps connect with the top carrying strap. These straps are very comfortable to wear on your shoulders. The left strap contains a mesh pocket. The description says that it is used to store your phone, but honestly, with the size of this pocket, it can only fit a flip phone. I have a Samsung Galaxy J3-6 and it does not fit. However, this is good to store sunglasses outside of the case, keeping it close by you if you were just to step in a store, perhaps, and wanted to take them off for a short amount of time. The right strap has "High Sierra" on it. I also attached a small Canada flag, as a way to show my Canadian pride.
On The Catholic Man's Scale
Appearance: ★★★★★ 5/5
Weight: ★★★★ 4/5
Storage: ★★★★★ 5/5
4Imprint USA's Customer Service: ★★★★★ 5/5
Summary
I really like the backpack for travelling purposes. It has a great appearance, and more than enough space for storage. I will continue using this backpack for retreats, pilgrimages and other travels for years to come.
I found the backpack to be a bit too much as a regular school backpack. It is fairly large for a school or work backpack. I would invest in other High Sierra backpacks specifically designed for work and school. This backpack was designed for travellers.
Is your parish or youth group going on pilgrimage soon? Consider getting "uniform" backpacks with your parish logo!
4Imprint.com can serve those needs. They are very customer friendly, both 4Imprint USA and 4Imprint Canada. I appreciate their amazing service to their customers.
Purchase
https://www.4imprint.com/product/120740/High-Sierra-Overtime-Fly-By-Laptop-Backpack